Living Outdoors Makes Me Happy
April 6th, 2012
I love working in the office. Tech and the skill of writing, designing, and marketing. Hey, sitting here writing this blog post to feed my family is just wonderful. Especially, when many other people are working in lonely cubicles or doing things they hate. I am very blessed.
Where am I going with this? While I love working indoors, nothing can beat the outdoors this time of the year. Dogwoods, azaleas, and flowers blooming. Green grass, awesome weather, and leaves on the trees. More daylight in the evenings. Spending time outside with the family.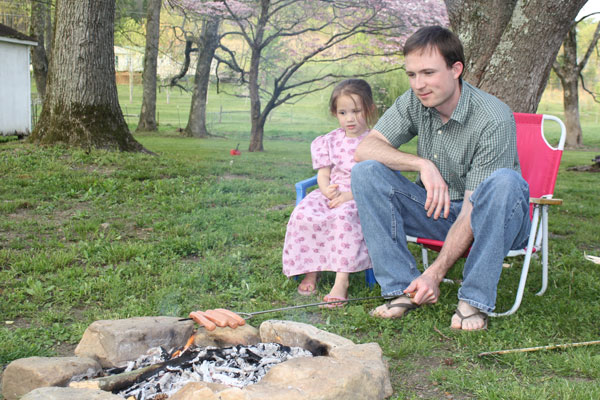 My backyard is still far from ideal, but at least it's a backyard. It would be fun to have a spacious deck, open patio, nice even lawn, and beautiful landscaping, but what's far more important is my family and taking time to enjoy each day.
We can have such high ideals, we miss the possibilities right under our noses. For example, I really enjoy fire rings. Roasted hot dogs, smores (with chocolate and peanut butter!), and fire talks. But for a long time I did without a fire ring because I had things to do with my money besides spending it on fancy landscaping bricks. You know the kind that works really good for a fire ring.
But you know what? I have a creek right beside my yard with tons of rocks in it. One day I got smart. I pulled a few nice looking rocks out of the creek and with a little sweat and a few minutes of my time, I had a great looking fire ring in my backyard! It is still there to this day.
What fun it is to enjoy time relaxing in the backyard around the fire (and the smoker) with family and friends. I love eating and cooking outdoors, especially in flip flops. Whether it's at a beautiful state park or simply your unfinished back yard, the charm of the outdoors this time of the year is simply awesome. Add to that a little time to relax with loved ones and the peace of a quiet evening. Spending time in the outdoors like this makes me feel happy and contented. Maybe it's because I feel so far from the office. I don't know.
My point is this—Do you have dreams that you're not able to reach because of time or money or skill constraints? Tilt your head down and look right under your nose. There may be a rock there. Maybe seven. You just might be able to form a circle and call it a fire ring.
All kinds of opportunities are waiting to enrich our lives. It could be in our personal lives, business, or the family that God has given you. There is nothing better than being content and in God's will, making the best of today.
Or, rather the best of this moment.
Lavern
Tags: fire ring, roasted hot dogs