Heavy Duty Chicken Cookers (Flipping-Grate Grills) from Meadow Creek Make it Fun and Easy to Grill Perfect Chicken for Crowds Every Time!
Much time and experience has been invested to bring you the best in commercial grade chicken cookers. Double-sided easy-turn grates let you easily turn the entire rack of meat with one hand. Non-rusting stainless steel grates are easy to maintain and last for generations.
The spacing between the fire and the stainless steel grates in these chicken cooker BBQ pits allows you to easily make perfect chicken without charring it because the grates are spaced approximately 18 inches from the fire. The space under the meat reduces the direct heat on the meat and gives it a smoked flavor. This is the best way to barbecue chicken.
Need help selecting the chicken cooker that's right for you?
Meat Capacities Chart • Crowd Sizes Chart • Meat Recommendations Chart
"Booked an event in September and a private party in 2 weeks!"
Marlin,
I just wanted to let you know that the BBQ42 that I purchased from you this past Friday is awesome!
The first time I used it was the very next day, cooking chicken wings at Pops on The River and they turned out great. It helped make our vending debut in Chattanooga a big success. Within minutes of the wings placed on the cooker and the smell working its way through the crowd, I booked an event in September and a private party in 2 weeks!
I was able to cook 75-80 lbs of wings per hour with ease and without getting Carpel Tunnel in my wrist from turning each wing. The consistency with each batch was seamless and they were cooked to perfection.
Today I grilled some burgers on the unit and was truly surprised with how juicy they came out. I will be in touch with you soon about the griddle option for this unit to explore how versatile it is. Again, thank you and I will send some photos of my BBQ42 in action at our next event.
Calvin Steele
Fresh Squeezed Vending Concepts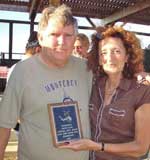 Bill Jones, Pig Roaster Trailer Customer says:
"This past weekend I competed in an amature rib cook-off at a local yacht club. There was 17 BBQ teams and 6 judges. The judges have been through a BBQ Judge Certification class. I took First Place in this competition.
"Working with Meadow Creek and Smoky Mountain BBQ has been a great experience. I really like the way you take care of people after the sale as well as during the sale. I was very pleased with the way the BBQ was crated for shipment."
Airflow Diagram

The direct heat design of the BBQ Series creates fast cooking times. The high heat also ensures crispy skin, every time.
Why a Meadow Creek Chicken Cooker BBQ Pit?
Quickly and easily grill large amounts of perfectly done chicken

with a chicken cooker from Meadow Creek. The large capacity of our towable bbq pits and their easy-turn double-sided grates makes cooking chicken fun and easy.
All Meadow Creek bbq pits / charcoal grills have locking double-sided pivoting grates that makes flipping your chicken quick and easy. These grates have handles designed to

conveniently and safely turn the meat or remove it when the cooking is completed

. Simply grab a handle and turn it with one hand or lift both handles to remove the rack from the grill. That's all there's to it!
We don't cut corners when it comes to quality. All our grills feature rust-resistant, easy to maintain stainless steel grates. For this reason, you may notice a price difference with our competitors. But don't be fooled! Regular grates like you will often find in other cookers begin rusting after one use while stainless steel grates in Meadow Creek grills never rust!
After all the fun is over, now comes the dirty part. Or is it really dirty?

Removable ash pans in our grills make cleanup a snap.
These Chicken Cooker / BBQ pits are favorites with the chicken cooking crowd. They can be seen in almost any setting from backyard feasts to cooking for hundreds at fundraisers. The painted models in this series are fabricated of 13 gauge welded steel painted with heat-resistant black paint in an attractive matte finish.
The cookers most favored by caterers, these transportable bbq pits, like all Meadow Creek equipment, are built to last for years. One of the easiest and most enjoyable methods of raising money or just simply feeding a crowd, these units will never disappoint.
All Meadow Creek trailer units come equipped with lights, a 2" ball hitch, a heavy duty wheel jack, Torflex axles, and road worthy tires.
Questions? Need Help?
Call Marlin at toll-free at (877) 602-1568 and he'll be happy to answer your questions. You can choose (1) Truck Freight to your address or (2) Pickup in Kalona, IA for a small fee if we have what you want in stock.
What Will It Cost to Ship My BBQ Cooker?
Use this form to request a freight quote from us if you want to have a standard cooker shipped via truck freight. We will do our best to get back to you within 3 business days—often it's within one business day. If you want a price on an Ultimate Caterer Trailer or other custom unit, visit our custom barbecue trailer page.


Struggling to choose the right cooker for your needs? Check out our Meadow Creek cooker comparison charts. If you would like to discuss your dream cooker over the phone, call Marlin toll-free at (877) 602-1568 to get some good, friendly advice. Or if you're close by, come visit our display lot in Kalona, IA to check out these fine barbeques!
Shipping: Truck freight will not be added in the checkout when you purchase one of our chicken cookers online, except for the BBQ26 and BBQ26S which can ship UPS. Complete the freight quote form above to ask us for a quote. Or you can choose Local Pickup in the checkout if you'd like to pick up your chicken cooker in Kalona, IA for a small fee. Please check with us for current inventory.
If you already got a freight quote, please put the quote number in the Freight Quote field in the checkout.