Meadow Creek BBQ Smokers Make it Easy to Hold a Consistent Heat
With Stainless Steel Grates That Will Not Rust, Chip, or Be a Pain to Clean Up
The talented workers at Meadow Creek work hard to design and build "Cadillac" grade barbecue smokers that smoke your socks off. You will never be ashamed to be seen with your Meadow Creek Barbecue Smoker. It's handsome design, heavy-duty construction, non-rusting grates, and smooth welds, secure latches, and most of all—a fun and easy cooking experience—will keep you fired for years to come.
Need help selecting the BBQ smoker that's right for you?
Meat Capacities Chart • Crowd Sizes Chart • Meat Recommendations Chart
"These cookers make a seasoned professional out of an amateur."
Marlin,
I received the trailer and have been working very hard to get everything up and running for my BBQ business, I'm really impressed with the quality of this equipment, and so is everyone else who stops to look at it too. This past weekend I fired it up and cooked 4 pork butts, 8 racks of st. Lewis style ribs, and a case of whole chicken legs. They turned out the best I've ever made, no exaggeration!!! These cookers make a seasoned professional out of an amateur. This was well worth the wait.
Thanks again,
-Jim-
JD's Smoky Pit BBQ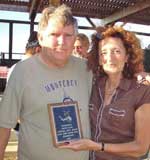 Bill Jones, Pig Roaster Trailer Customer says:
"This past weekend I competed in an amature rib cook-off at a local yacht club. There was 17 BBQ teams and 6 judges. The judges have been through a BBQ Judge Certification class. I took First Place in this competition.
"Working with Meadow Creek and Smoky Mountain BBQ has been a great experience. I really like the way you take care of people after the sale as well as during the sale. I was very pleased with the way the BBQ was crated for shipment."
Airflow Diagram

Utilizing the path of least resistance, Meadow Creek smokers employ the curved design of the tank end to provide a smooth, consistent draft and heat source.

Indirect heat from slowly burning wood or charcoal travels under the sealed drip pan. Smoke circulates around the meat for slow, even cooking. The drip pan can also be used as a water smoker with the drain spigot closed.
Why a Meadow Creek BBQ Smoker?
Meadow Creek offset smokers make it fun and easy to cook authentic "low and slow" barbecue. It's impossible to describe the fun, the smell, and yes... the outrageous flavor of real BBQ made on a real BBQ smoker! Click here to watch ribs smoking on a Meadow Creek TS250 Barbeque Smoker.
7 Things You Should Know Before You Buy a Barbeque Smoker
Our BBQ tank smokers utilize reverse flow draft, featuring a solid plate that closes up the firebox side of the smoking chamber. Smoke from the firebox is pushed to the far side of the smoker before it enters the smoking area. Then it naturally travels back to the firebox side and out the chimney. This type of setup creates

more even heat in the smoking chamber

than a smoker where the smoke enters the tank on the firebox side and goes straight to the chimney on the opposite side.
Our barbeque smokers offer lots of options to custom suit your needs. We will do our best to ensure that your smoker is built exactly how you ordered it.
Food-grade stainless steel grates do not rust and

make clean-up and maintenance a whole lot easier

.
Our barbeque pit trailers feature a standard light package and highway wheels, so your trailer is ready to roll!
A heavy duty wheel jack makes it easy to push the smoker trailer around by hand and keeps your smoker level when it's unhooked.
Easy-open positive latches secure all the doors (no need for bungee straps!).
A heavy duty grease trough and drain valve make cleanup quick and easy.
Questions? Need Help?
Call Marlin at toll-free at (877) 602-1568 and he'll be happy to answer your questions. You can choose (1) Truck Freight to your address or (2) Pickup in Kalona, IA for a small fee if we have what you want in stock.
What Will It Cost to Ship My BBQ Cooker?
Use this form to request a freight quote from us if you want to have a standard cooker shipped via truck freight. We will do our best to get back to you within 3 business days—often it's within one business day. If you want a price on an Ultimate Caterer Trailer or other custom unit, visit our custom barbecue trailer page.


Struggling to choose the right cooker for your needs? Check out our Meadow Creek cooker comparison charts. If you would like to discuss your dream cooker over the phone, call Marlin toll-free at (877) 602-1568 to get some good, friendly advice. Or if you're close by, come visit our display lot in Kalona, Iowa to check out these fine barbeques!
Shipping: Truck freight will not be added in the checkout when you purchase one of our barbeque smokers online. Complete the freight quote form above to ask us for a quote. Or you can choose Local Pickup in the checkout if you'd like to pick up your barbecue smoker in Kalona, IA for a small fee. Please check with us for current inventory.
If you already got a freight quote, please put the quote number in the Freight Quote field in the checkout.