Revolutionary Pig Roasters, Barbeque Smokers, Chicken Cookers, and Grills Designed and Built by Highly Skilled Craftsmen to Give You Outstanding Value for the Price
Meadow Creek makes some amazing smokers, pig roasters, chicken cookers, and grills. All this equipment is made in the Amish Community of Lancaster County, PA. The talented craftsmen at Meadow Creek hand-make each unit. They seriously go the extra mile to make sure you're smoked pink. What really puts the sauce on the brisket is all the revolutionary features and options that make barbecue fun and easy, and even a money-machine, if BBQ is your business.
Explore Meadow Creek's revolutionary BBQ smokers, pig roasters, chicken cookers, and more: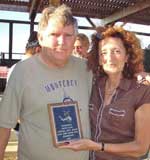 Bill Jones, Pig Roaster Trailer Customer says:
"This past weekend I competed in an amature rib cook-off at a local yacht club. There was 17 BBQ teams and 6 judges. The judges have been through a BBQ Judge Certification class. I took First Place in this competition.
"Working with Meadow Creek and Smoky Mountain BBQ has been a great experience. I really like the way you take care of people after the sale as well as during the sale. I was very pleased with the way the BBQ was crated for shipment."
Smart Reasons to Choose a Meadow Creek Cooker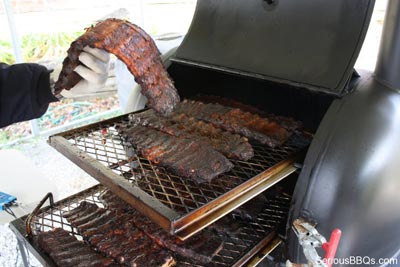 Integrity: Meadow Creek cookers are made in a culture of Godly ethics—honesty, diligence, and fairness. Whether it's a Shoo-fly pie or a barbecue smoker, you will be treated right.
Stainless Steel Grates: Every Meadow Creek barbecue cooker comes standard with non-rusting stainless steel grates. This eliminates the hassle of scrubbing rust and the danger of possible rust contamination on your meat.
Awesomeness: Our barbeque cookers are designed by barbeque experts and hand-made in the USA by talented welders and craftsmen. Every unit features outstanding workmanship to give you an amazing barbeque experience.
Value: Apples to apples, these Meadow Creek cookers give you outstanding value for the price.
Rock Solid Construction: These cookers are commercial grade and heavy duty for many years of dependable catering, competing, or simply backyard cookouts.
Unique: Designs and features, such as double-sided grates and stainless steel grates, that are unique to other cookers on the commercial market.
Trailer License: Meadow Creek Welding is a licensed and nationally-recognized trailer manufacturer, so you will have all the documents you need to get your BBQ trailer licensed.
The Whole Works: Meadow Creek offers pig roasters, chicken cookers, smokers, grills, and sinks to serve a wide market, from commercial to backyard use in both roll-around and trailer models.
Options: Meadow Creek offers a variety of customization. Contact your local dealer for a quote on a custom BBQ trailer. We look forward to serving your outdoor cooking needs.
Where to Buy a Meadow Creek Smoker or Grill
Meadow Creek barbecue equipment is available through a network of dealers. The dealers stock inventory for immediate pickup, and they can also help you choose the model that is best for your needs and get you a freight quote for factory-direct shipping.
Find a Dealer at MeadowCreekBBQ.com
Looking for Yoder's Smoky Mountain Barbecue? The dealership has closed, but this site will be available for some time because of all the information we have on here about Meadow Creek equipment.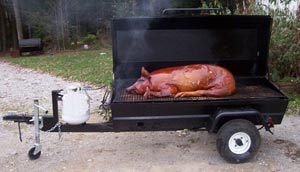 Relax and take some time to browse our site. We'll help you choose a barbeque rig that is dependable, fun to use, a breeze to clean up, and keeps over-delivering for years to come!