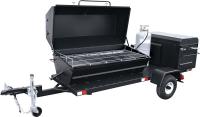 ALERT:
Meadow Creek has changed the grates on all their models. Some of the photos on our website are outdated and still show expanded metal grates.
Click here
to read more about the new grates.
Features of the CD120G Barbecue Catering Trailer
Stainless Steel Grates
Thermometer on Pig Roaster
Trailer Lights
PR72 Charcaol / Wood-Fired Pig Roaster
BBQ42 Charcaol / Wood-Fired Chicken Cooker
2" Ball Hitch
Safety Chains
Highway Wheels
E.Z. Lube Bearing
Wheel Jack
Rubber Torque Axle
Drip Pan in Pig Roaster
8" Wheel with 18" Tires
Tubular Frame
L.P. Gas Tank Mount
1" Pipe Burner
Painted with 1,200 degree F heat resistant paint.
Measurements
Overall Dimensions
47"H, 160"L x 54"W
Metal Thickness
13 Gauge
Net Weight
950 lbs.
Shipping Weight
1,250 lbs.
BTU
Approximately 82,000
Pig Roaster Specs
Grate Dimensions
24" x 70"
Grate Style
Wire Grid With 1/2" Spacing
2nd Tier Grate Dimensions
22" x 70"
Cooking Area
11.67 sq. ft. (1,680 sq. in.)
Cooking Area With 2nd Tier Grate
22.36 sq. ft. (3,220 sq. in.)
Chicken Cooker Specs
Grate Dimensions
22" x 40"
Grate Style
Wire Grid With 1/2" Spacing
Optional Flat Grate Dimensions
22" x 41"
Cooking Area
6.11 sq. ft. (880 sq. in.)
Cooking Area of Flat Grate
6.26 sq. ft. (902 sq. in.)
Usage Recommendations
For the PR72G Pig Roaster, a 30 lb. tank will do approximately 13 hours of cooking at 300–325 degrees.
We recommend approximately 25–30 lbs. of charcoal to cook 40 lbs. of chicken on the BBQ42. Add about 10–15 lbs. of charcoal for a second batch. For other cuts of meat, grilling, smoking, etc., put in your desired amount of charcoal.


Our Promise
Now that you've learned all the smart reasons to buy a Meadow Creek barbecue cooker, where will you buy it? You can't buy straight from Meadow Creek, so it comes down to choosing a dealer. We (Yoder's Smoky Mountain Barbecue) are the leading online distributor for Meadow Creek, and here's our promise to you:
Prompt and Honest Service: We take calls and emails seriously and do our best to reply within several business days. Sometimes things come up, but we strive to be 100% honest with quotes, lead times, and all.
100% Satisfaction Guarantee: We are dead serious about making and keeping you happy. We'll make sure you're covered in freight damages and help you troubleshoot problems. We offer a 30-day money back guarantee on all our Meadow Creek barbeque equipment (except for Ultimate Caterers). If for any reason you are not happy with your unit, you may return the cooker to us within 30 days of the delivery or pickup date, and we will refund the purchase price minus the shipping and handling. You are responsible to pay the return shipping.
Wow Box: A 3-pack starter kit of Meadow Creek barbecue rub.
Free Phone Consultation: Once you're our customer, we will gladly answer your questions over the phone and help you troubleshoot problems.
Questions? Need Help?
Grab a copy of our Meadow Creek Buyer's Guide. Or call Marlin (the guy to the right) toll-free at (877) 602-1568 to get some good free advice.
If you're ready to order, you can either choose truck freight to your address or local pickup in Kalona, IA for a small fee (if we have what you want in stock).
If you already have a freight quote or if freight is not a concern, you can buy through our secure online checkout.