How to Smoke Meatloaf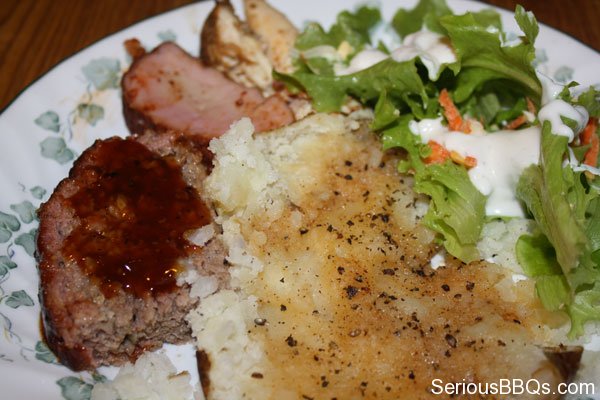 Today I'm going to show you how I smoke meat loaf. We love meatloaf. But smoked meatloaf—it's just over the top. Even my wife loves this stuff so much, I don't know if she will ever cook meatloaf in the kitchen again.
Like usual, my goal is to share my story and show you how easy amazing barbecue can really be. There are a ton of smoked meatloaf recipes online, but I hope you're here to read my story, not just read more about meatloaf.
So far, I haven't done any supreme meat loaf with all the vegetable toppings. If you haven't seen it yet, you should check out the BBQ Pit Boy's Meatloaf Burger Supreme video. It looks delicious and I want to try it sometime. However, stay with me. You can top your meatloaf with peppers, onion, cheese, and sausage Pit Boy style and still use my recipe.
First, you mix up the meat. We used 5 pounds of hamburger in the foil pan shown on this page. Simply multiply it to fill the size of pan you have. Here is the recipe:
Meatloaf Recipe
1-1/2 pounds ground beef
3/4 cup oatmeal
1/2 cup chopped onion
salt and pepper to taste
1 egg
3/4 cup milk
Mix the above ingredients in a bowl. Shape the meat into a loaf in a disposable aluminum pan. Cover the surface of the loaf with a brisket rub or your favorite beef rub. If your seasoning is heavy in salt, sprinkle it lightly. I prefer a seasoning I can put on thick as in the picture below.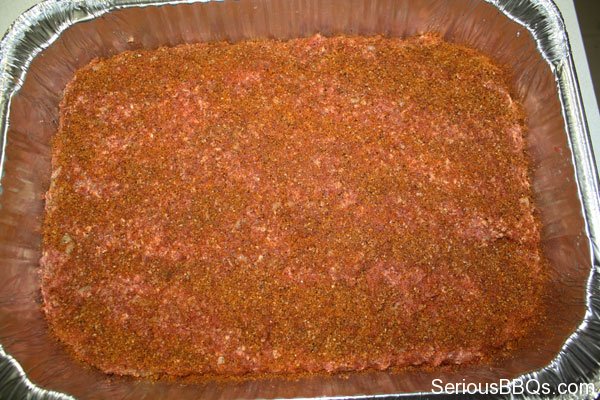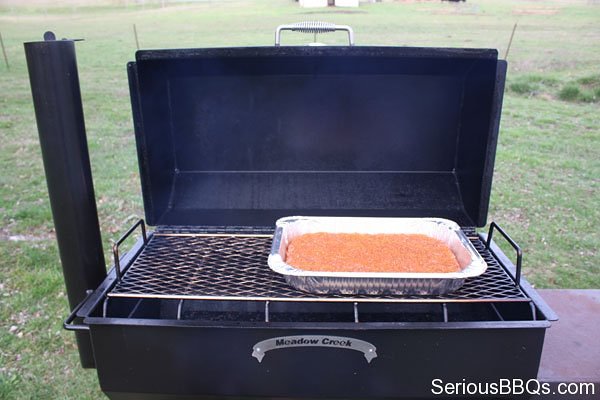 Next, I set the pan in my smoker. The smoker should be running at 250-275 degrees F. I use a Meadow Creek SQ36 Smoker. This model is perfect for backyard smoking.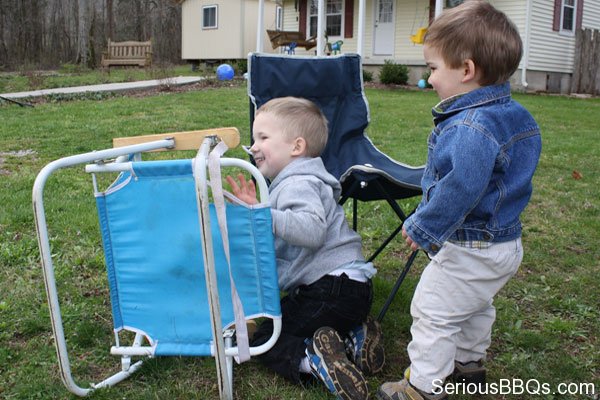 My smoker takes very little maintenance besides occasionally adding more wood and charcoal. Half of the fun is hanging out around the smoker with the boys.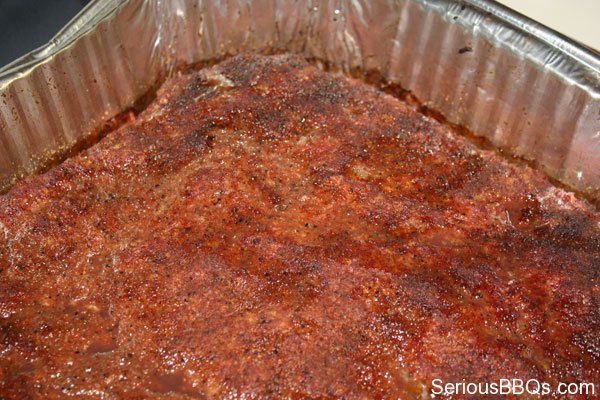 I like to take the internal temperature up to about 180-190. It's not really critical, but it's a little like eggs. Some people like 'em hard, some like 'em soft. You can vary it according to your preference. I really wouldn't eat it mushy though, unless you are a true barbarian.
About 20 minutes before it's done, brush your favorite barbecue sauce over the whole top of the meatloaf. We use Jeff Phillip's sauce recipe, called Goodness Gracious Sakes Alive. It really is my absolute favorite sauce. He's asking $10 for the sauce recipe and I would buy it in a heartbeat. I wish I could share it with you, but I can't.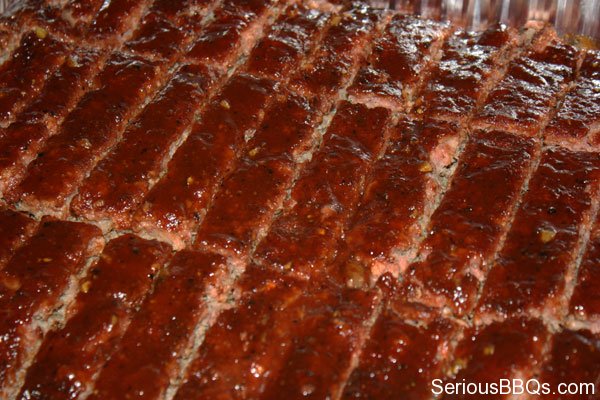 After it was cooked, I sliced the meatloaf into small pieces for our church fellowship meal the next day. I covered the pan with foil, refrigerated it overnight, then we reheated it in the oven the next morning for the noon meal.
We served extra sauce on the side. Where I messed up was not saucing it during the reheat. The sauce got a little too much heat and baked into the meat. It was very delicious, but didn't have the presentation it should have had. So if you do reheat it, give it another coat of sauce about 20 minutes before you're ready to pull it out of the oven. Just give it a little time to glaze the top of the meat and make it beautiful.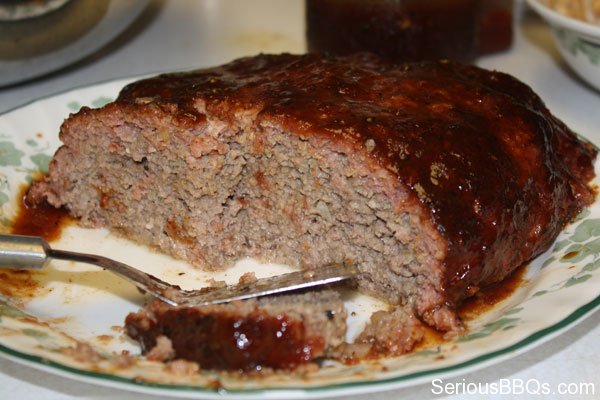 Above is another meat loaf I did once when we had some out-of-state friends here. Ain't it just worth looking at?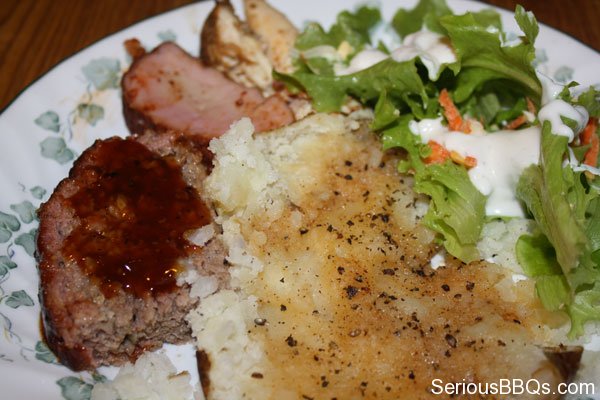 This is what it looks like 10 inches from your mouth.
Well, I guess that wraps it up. I hope you enjoyed my tips. Fire up the smoker over the weekend, make some good lookin', lip-smackin' moo-moo and tell us how it swirled out with a comment below. I can't wait to hear from you.
Have fun!
Lavern
PS. Browse our revolutionary barbecue smokers here. They are worth a click.
32 Responses to "Smoked Meatloaf Recipe"
Leave a Reply