How to Smoke Corn and Potatoes
Today, while many were dreaming of the weekend and living for 5:00, we were having a great time smoking corn on the cob and potatoes. I'd like to share my story and inspire you to try it for yourself.
By the way, we are very privileged to have our own garden. It's a lot of fun to cook and eat the food we've raised ourselves. I used fresh garden corn and potatoes in this recipe.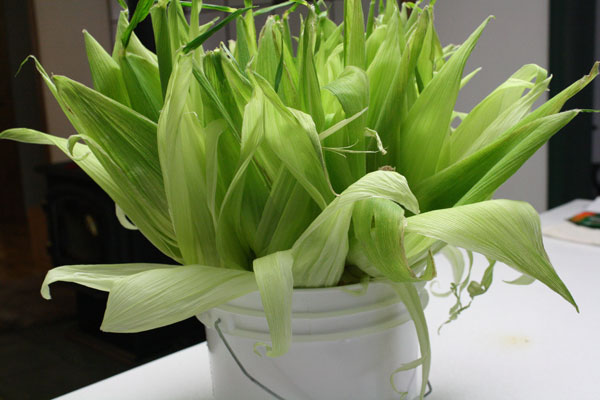 We started by carefully peeling back the husk and removing the silk. Then we stuck them all in a bucket of cold water for about 2 hours. I am not sure why we did this except others who have gone before told me to do this.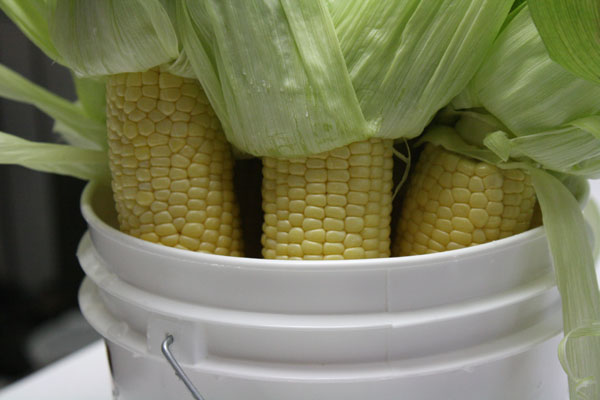 Incredible ears of Incredible corn (yep, that's the variety we raise).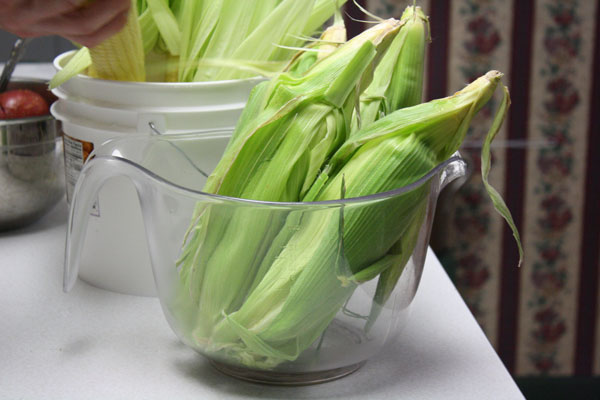 Once it was done soaking, we "pulled the wool" back over the ears, and it was ready for the smoker.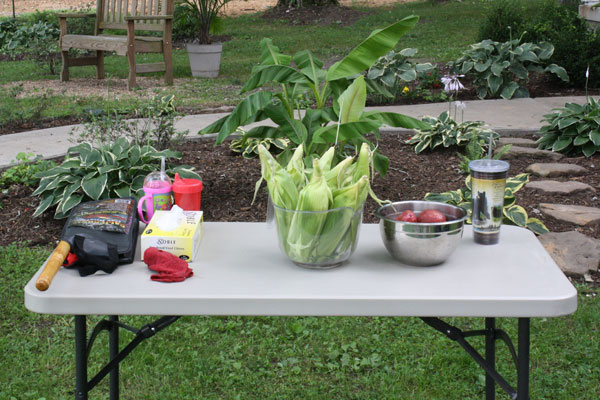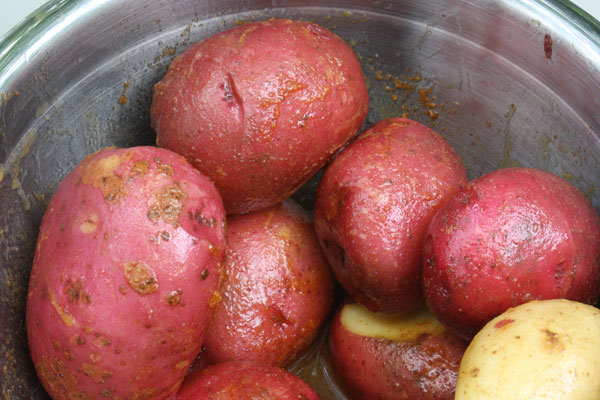 Fresh, home-grown potatoes. You just can't beat it. Nope!
To prep the tators, we just mixed some Meadow Creek Traditional Rub with palm shortening (you can use olive oil or anything like that) and rolled the potatoes around in it. I've heard the oil helps make the skins more crisp. I just took them out of this bowl straight onto the smoker and drizzled some of the extra liquid onto the potatoes.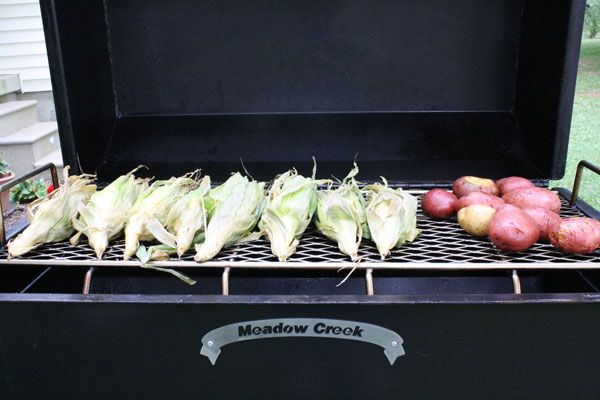 My Meadow Creek SQ36 Offset Smoker loaded and rolling. I think I kept it between 225-250 F for most of the time.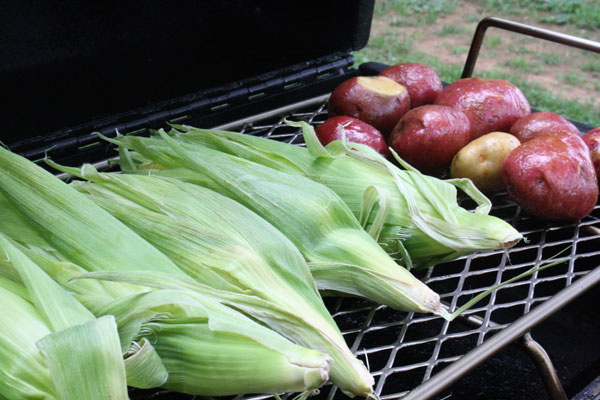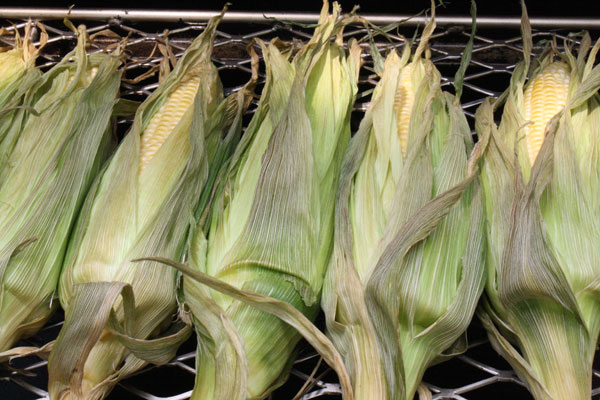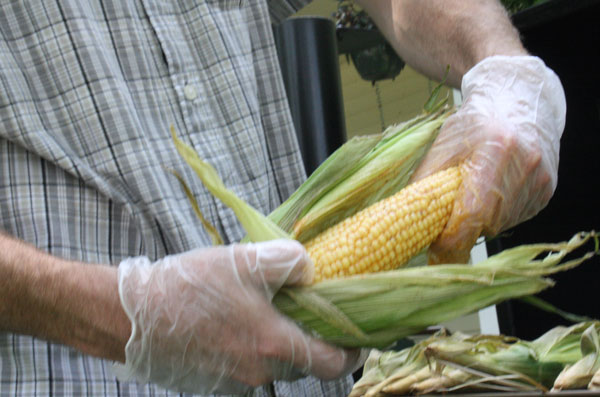 About 45 minutes into the cook, I peeled back the husks and rubbed down the cobs with rub butter. Later I again opened the smoker and put some rub butter on the ears. The second time around you can just lift the husks a bit and work a little more rub under them.
Jeff Phillips taught me how to make rub butter and it's a fantastic idea. You simply mix soft butter with your favorite seasoning. About 1-2 tablespoons per stick (1/4 pound) of butter, depending on how salty your rub is. I used Butt Rub and Dizzy Pig's Dizzy Dust, half and half. It was a bit spicy and gave the corn great flavor. It was a bit under-salted, but we just added more rub butter before serving.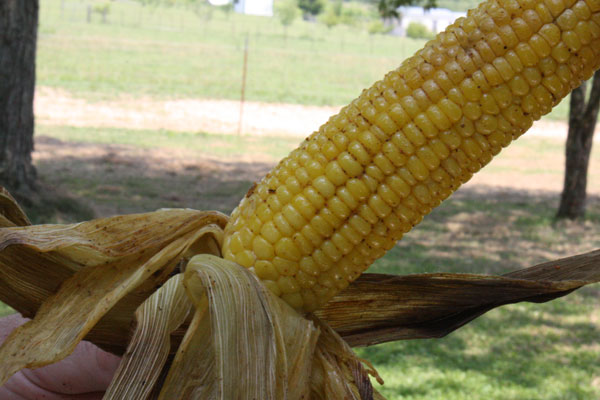 The finished product.
We started eating the corn at about 1.5 hours after putting it on the smoker. It was very delicious, but could have used more heat. It should take 1.5-2 hours.
We spread some more rub butter on the ears before crunching down on them. Again, your butter to rub ratio will vary based on your salt content.
The smallest potatoes were pretty soft before 2 hours was up. Bigger ones could take a few hours. Just poke them with a fork. You will be able to feel when they are soft.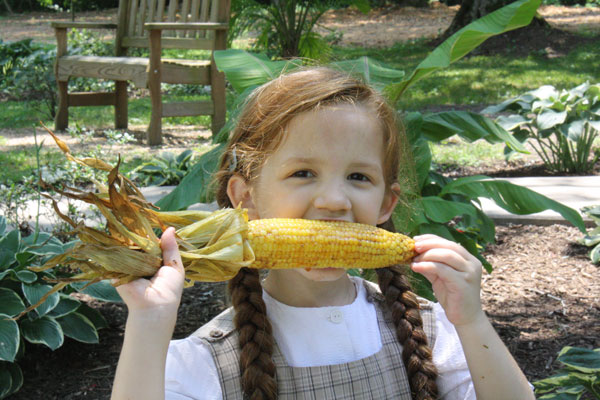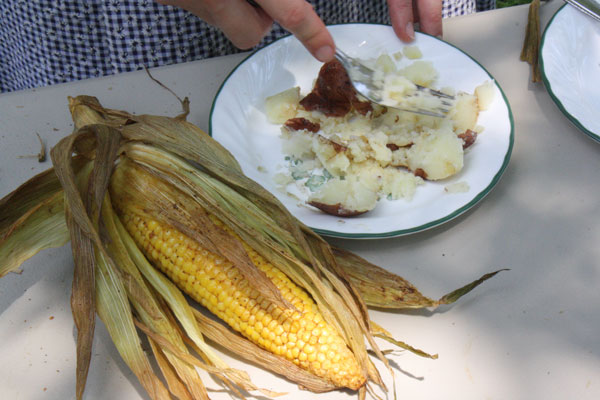 The potatoes were very delicious too, topped of course, with rub butter. Missing was the sour cream, bacon bits, and cheese. But present was smoke flavor and the indescribable goodness of fresh garden produce. We didn't make a full course meal out of it, but just a glorified early afternoon snack out by the smoker.
I think corn on the cob and potatoes are a real attraction in backyard and even commercial barbecue. Now is a great time to get some corn at the produce stand or out of your own garden and make the smoke roll.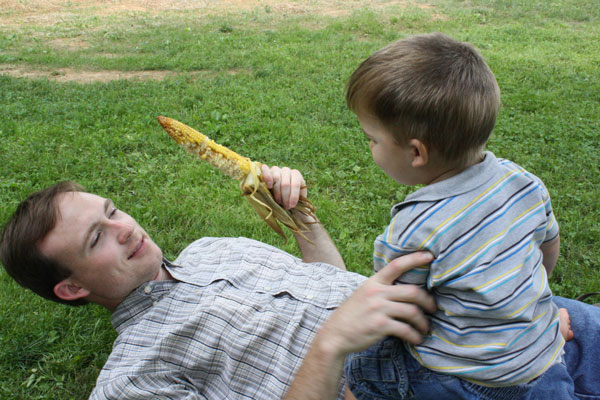 Moral of the story: Cook that corn, but remember, family is always more important than corn.
Have fun,
Lavern
23 Responses to "How to Smoke Corn and Potatoes"
Leave a Reply