Extremely Edible Smoked Sausage Recipe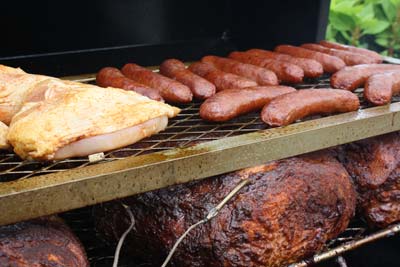 I was really surprised when we first started smoking sausage links. For one thing, they're so easy to cook. Plus you and the people who eat them will have a hard time getting over it. Of course, that is if you do it right.
I said they're easy to cook. BUT they're also easy to mess up. Here's the deal:
Go easy on the smoke. If you over-smoke them, they will get really black by the time they're done. (Maybe you actually like that, I don't know.)
Don't overcook them. Take them up to about 160 degrees F internal temp. Be careful not to cook the juice out of them. 170 or higher and you'll likely dry them out.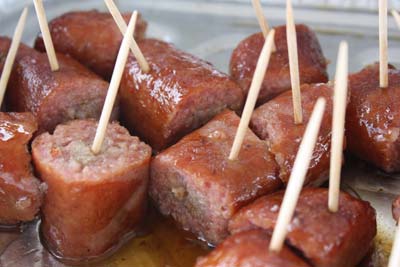 So let's get back to the first step. In this recipe, I'm going to assume you have an offset smoker or know how to set up indirect heat in your grill.
Start with raw sausage links about the size of regular hotdogs. We really like the Italian sausages from Sam's Club. Look around in your local grocery stores and see what you can find. If the sausage is frozen, have it thawed by the time your smoker is fired up.
Get your offset smoker running at about 225 degrees F. Add a little wood or wood chips to make a thin smoke.
Load the sausages onto the grate and sprinkle them with your favorite barbecue seasoning.
You might want to turn them a time or two while cooking. Take the internal temperature up to 160 degrees F.
Remove them from the grate and slice them on a cutting board. Serve them on toothpicks.
Now you're looking at some juicy and extremely edible sausages, perhaps even capable of winning lost friendships. 
Enjoy!
Lavern
One Response to "Extremely Edible Smoked Sausage Recipe"
Pete L. Says:
April 15th, 2012 at 9:33 am

I've been smoking a variety of sausages for years, including pork & venison. I usually smoke them with my ribs or or large cuts of pork , so we can have a little snack in the process !A mixture of hickory & apple wood is a great flavor, but pecan ,maple ,alder ,tabasco or "Jack Daniels " brand are also great .I've never tried it with seasoning, cool idea ! ENJOY!

[Reply]
Leave a Reply