How to Smoke a Turkey "Low and Slow" in a Barbeque Pit
First of all, let's get this straight. Smoking a turkey is not rocket science. Actually, once you discover how easy it really is and you take the first bite of your own smoked bird, you'll want to make it a tradition every holiday season!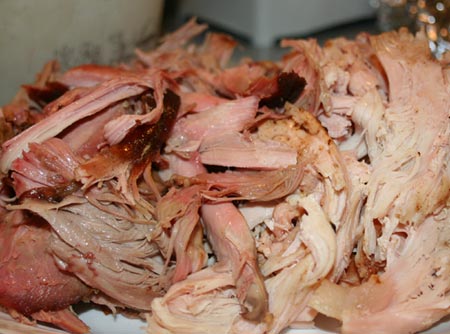 In this guide, I'm going to assume that you have a charcoal/wood-fired smoker. We're here to make it simple for you. Just follow the steps below, and before long, you'll be smoking that delicious, mouth-watering turkey you've been dreaming about.
Choose Your Turkey
Pick a turkey that's about 12–14 pounds. We don't recommend going over this size, because it's just asking for trouble. When it's too large, parts of the turkey can stay in the danger zone longer than what it should. So make it easy on yourself and stay under 15 pounds.
You can go with either a frozen turkey or a fresh one. You will get great results either way.
Prepare the Turkey
If your turkey is frozen, let it thaw. The safest way is to let it thaw in the refrigerator, which can take up to several days. If you're running out of time, you can submerge the turkey in cold tap water, and your turkey should thaw in less than 8 hours. Just make sure it's in a leak proof package or freezer bag. Replace the water with cold water every 30 minutes. And remember do this at your own risk.
Next, you'll remove the wrap and giblet bags. Remove the neck and any loose skin or flaps of meat around the edges.
Brine the Turkey
Regardless of which turkey you choose, it will be worth your time to brine it in a salt and sugar water mixture. If you get one that's been injected, you can skip this step, but if you choose a home-raised or minimally processed turkey, it will most likely turn out dry unless you brine it.
So don't skip this step. It's actually very easy and simple to do. Use 1/2 to 1 cup of salt (preferably Kosher) and 1/2 cup of brown sugar per gallon of water. Stir until the salt and sugar dissolve. Cool the brine before you add the meat.
Submerge the turkey in the brine overnight. You can put the turkey and the brine in a large zip-lock freezer bag. Or if the turkey is too large, use a glass or plastic container.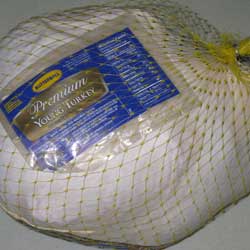 Season the Turkey
Rinse the turkey thoroughly with cold water and dry it with a paper towel. Brush the turkey with vegetable, canola, or olive oil to make the rub stick. Put some inside the cavity of the bird too.
Generously shake BBQ seasoning all over the turkey and pat it into the oil, working it under the skin where you can.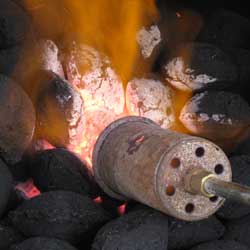 Fire the Smoker
I'm going to assume you know how to fire your smoker and get it up to temperature. The amount of charcoal will depend on the size of your smoker, so you may have to consult your owner's manual. Use a propane weed-burner torch, electric starter, or charcoal chimney to light the charcoal. The target temperature will be around 225 degrees F.
Add several pieces of wood to get the smoke rolling. Try to maintain a thin blue smoke, and keep smoke flowing for at least the first couple hours of the smoke. Keep in mind it's easy to overdo the smoke and too much smoke will make your meat dark.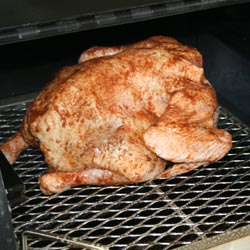 Load the Turkey
Lay your turkey on the smoker grate and close the smoker. Yep, it's that simple.
Maintain the Temperature
Once the temperature reaches 225 degrees, adjust the firebox vents to maintain temperature between 225 and 250 degrees. Weather, barometric pressure, and outside temperature affect the temperature inside your smoker. If it's too low, open the vents more; if it's too high, close them accordingly. Occasionally check the thermometer, making adjustments to the vents as necessary.
Depending on the brand of smoker you have, it might be a challenge to keep the temperature in line without constantly monitoring and adjusting it. A Meadow Creek tank smoker is very steady and makes it a breeze.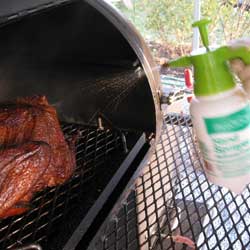 Baste the Turkey
Every hour or so, open the smoker and spray apple juice on the turkey or brush it with melted butter mixed with seasoning.
Check the Internal Temperature
After 4 hours, check the internal temperature periodically with a probe meat thermometer. Leave it on the smoker until the thickest parts of the thigh and breast read 165–180 degrees F.
Remove the Turkey
As a general rule, it takes about 30–40 minutes per pound to smoke a turkey. Temperature and other factors can make a difference in the time it takes, so check that temperature. And if you're cooking for guests and need to have it done by a certain time, it's better to have it done a little early than a couple hours late. You can even cook it the day before and reheat the meat in the oven in a covered pan.
Enjoy Mouth-Watering Barbecue!
Now you're ready to dig in and enjoy your delicious, smoke-flavored turkey! Slice it. Tear it apart. Pick it off the bones. This is one dead bird that's worth eating.
Smoked turkey is great any day of the year, but especially wonderful on holidays. Today is a good day to start learning all the secrets to smoking mouth-watering turkey that will make you a hero among your friends. I hope this guide will help you make a yearly tradition of precious memories with family and friends.
Looking for Amazing Value for the Price? Grates That Won't Rust?
Talented Craftsmanship? Attention to Detail?