Father's Day Thoughts (Behind the Times)
June 22nd, 2012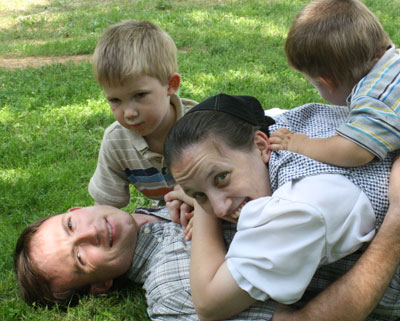 I'm having a hard time staying ahead of the curve here on my blog. I wanted to post some Father's Day gift ideas and Father's Day recipe suggestions, but the time came and went. Still no blog post.
But hey, perhaps you can relate and this makes you feel at home.
You know, sometimes we get behind the times and just need a little permission to be late.
Father's Day is very special to me because I have a dad I am very proud of and I have the blessing and honor of being a Daddy to three very sweet children.
Maybe you are a tough barbecue dude and that sounds a bit too mushy for you. But I think we all have a soft spot in our hearts for children.
Whenever I take my children with me shopping or running errands, I get more smiles than when I am alone. There is nothing of this life sweeter than the trust and radiance of a wife and children who love you. And Father's Day is a time of celebration for the precious gifts that make it possible to be a daddy.
If you are a father or have a father, I want to remind you how precious a gift you have. Take some time to reflect and thank God for the blessing of these relationships.
A great way to enjoy some quality time together is around the BBQ smoker or grill and sharing a delicious barbecue meal together.
Check out this brand new recipe I added to my recipe library today:
How to Smoke Corn and Potatoes
Or a couple old favorites:
How to Grill Hamburgers and Fries
How to Smoke Ribs That Make You Squeal and Grunt
I wish you the best,
Lavern
Tags: fathers day, how to smoke corn