Tips on Cooking for a Crowd (part 1)
May 21st, 2012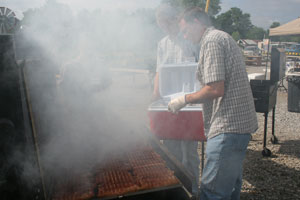 Cooking for a crowd can be overflowing fun and bliss. Or it can be the most embarrassing event of your life.
In my last blog post, I showed you how we cooked for the open house at Cold Springs Garden Center. Today I want to share a few tips on planning ahead when cooking for a crowd. These are based on principles I have learned in our own cooking for open houses, church picnics, and reunions.
Lack of planning is a leading cause for despair in catering. Get your ducks lined up and don't try to warp time. If you are careless in this point, you are asking reality to dump buckets of stress upon your head. Planning involves fire management, lining up supplies, and preparing enough food for the crowd. I can't go into much detail on these points today, but you can use these simple tips as a guide for success in catering.
Fire management: You know when you want to start serving. Calculate backwards to figure out when you need to start cooking or light the fire. If you're cooking with charcoal, figure on roughly 20-30 minutes to get the fire hot. If you don't use enough fuel, the fire will lag. If you try to cook with a weak fire or get the meat on late, you can easily run past your deadline. At that point you have no choice but to wait. And waiting is painful when people are waiting for food and you're 30 minutes out.
Supplies: Fuel, lighter, containers, water, knives, clean-up, serving trays, tents, and what not. Think everything through in advance and prepare thoroughly. If you are cooking close to home-base or a super market, it's not quite so bad to run back and forth to get what you forgot if you have a dedicated gopher. When you're cooking at the park for a wedding or out of state at the family reunion… well, let me just say this. It's a royal pain when you are not prepared.
Food: Learn how much food it takes for your size crowd. This will vary on age, type of meat, and number of sides. It's much more stressless and fun to have a lot of leftovers than to run out when people are still lined up. This is what you do when you want bad dreams at night.
A lot more could be said about planning ahead when cooking for a crowd. These are just some things I've learned from our experience. In future posts, I'd like to share more tips, such as using decent equipment and keeping records.
Did you like my tips? Leave a comment to let me know what you think.
Have fun,
Lavern
Tags: cooking for a crowd, cooking for a large group, how to cater