Pigs for the Hungry
May 18th, 2012
A couple weeks ago, we had a lot of fun cooking for Open House at Cold Springs Garden Center, the other company Marlin owns with my Dad. The event lasted two days, Friday and Saturday. We served homemade donuts and coffee in the mornings. Around 10:30 we started giving away grilled sausage sandwiches and barbecue samples.
In this post, I want to share some of the memories from those two days and entice you with ribs, wings, chicken, and Amish-made sausage from Lancaster County, PA.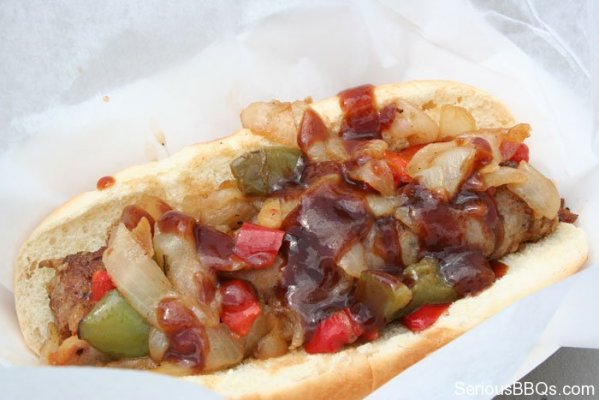 We grilled the sausages on a BBQ42 Chicken Cooker. For samples, we grilled party wings with the sausage and smoked ribs (how growling delicious!) and split chicken breasts on my Meadow Creek SQ36 Smoker.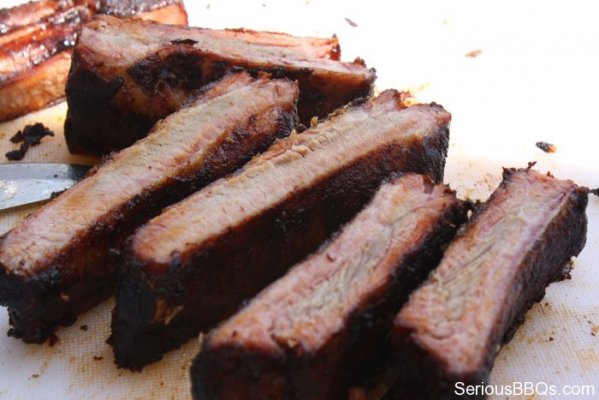 Don't look. O)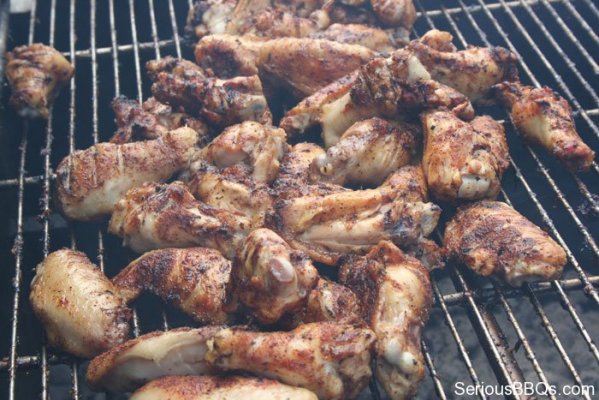 You don't like wings? You can't possibly be serious!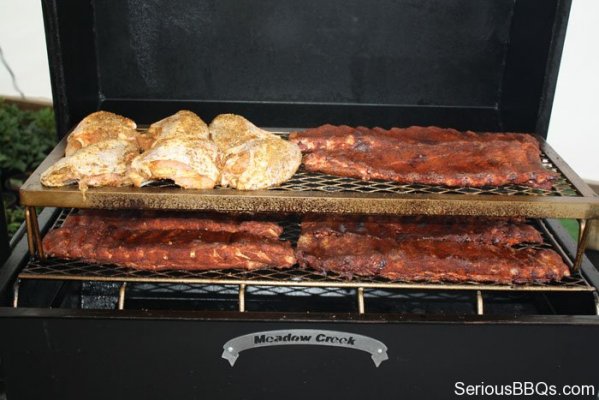 Getting more better by the minute.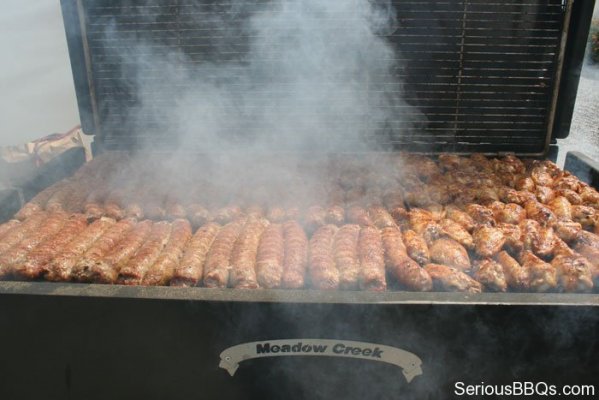 Smoke and salt; meat and Meadow Creek. What more can I say?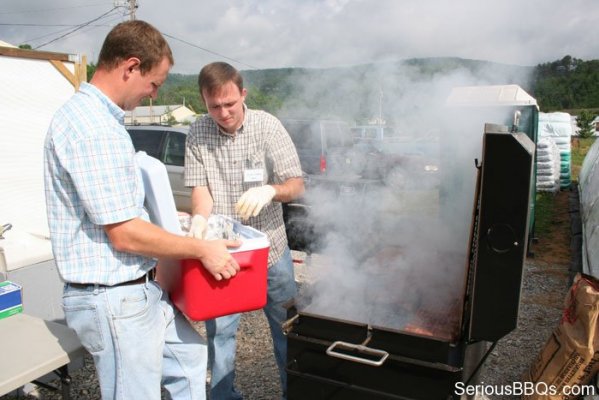 Us boys cookin' up storms.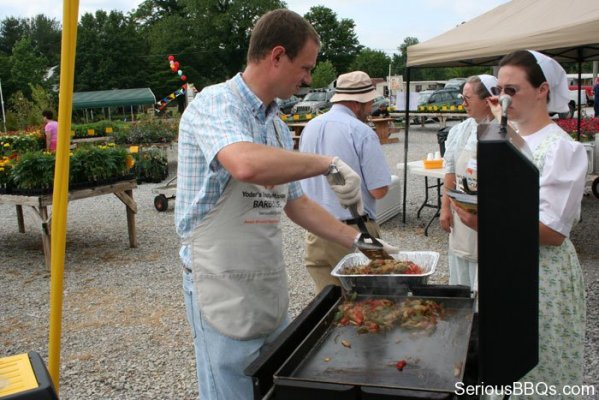 Marlin cooking the sandwich toppings on the Meadow Creek BBQ26S with a griddle.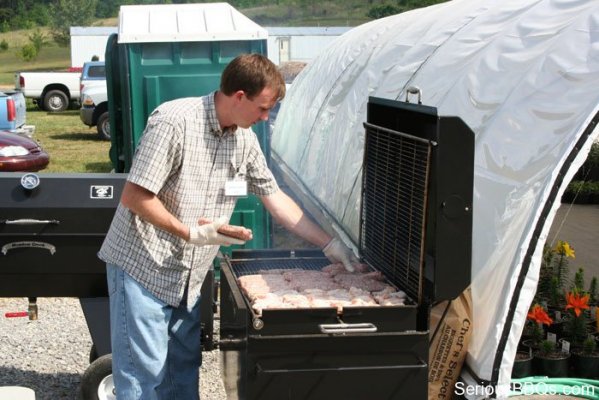 Me loading the BBQ42 Grill with more sausages. The grate hinges in the back and latches on the other edge. It swivels in the middle, so you can flip the whole rack of meat with one hand.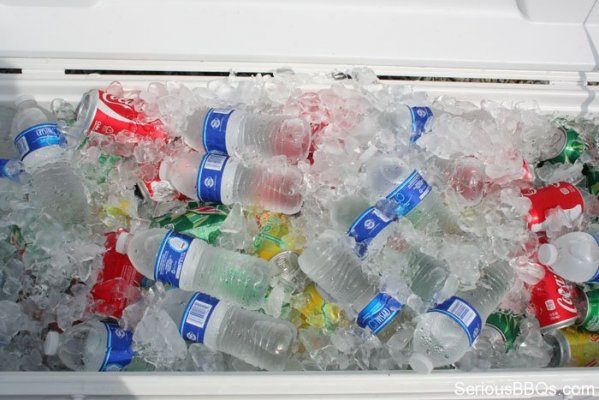 You've got to give people plenty of water and soda.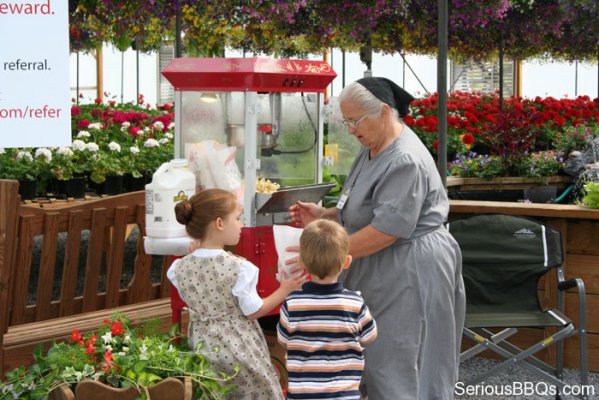 Good ole' popcorn snacks.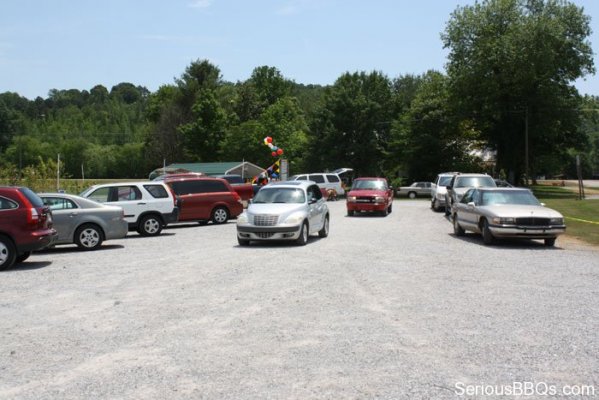 It was very busy and lots of people showed up. At one point I counted about 35 vehicles in the parking lot.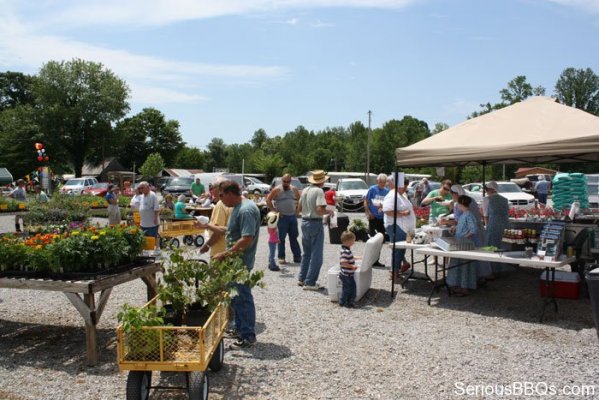 The food stand where we served donuts and barbecue.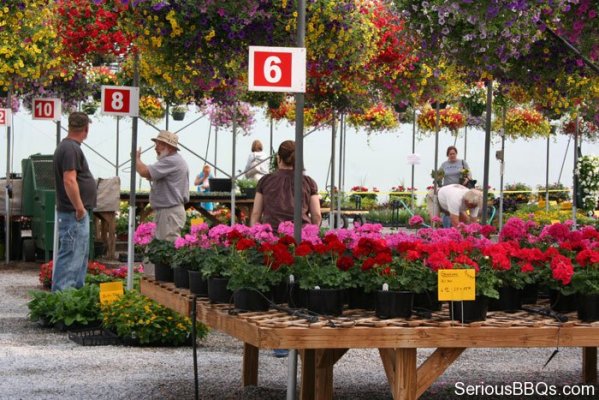 The open house was a great success. Hundreds of people showed up and we gave away lots of free food. Plant sales were high too. We served around 300 sausages plus 16 racks of ribs, 12 split bone-in breasts, and several small batches of wings.
I was able to easily cook most of the meat myself thanks to Meadow Creek's BBQ42 Charcoal Grill (Chicken Cooker) and SQ36 Offset Smoker. In fact, I had hardly ever used the chicken cooker before. That's usually Marlin's department.
You know how I've been telling the world how easy it is to cook perfectly done meat on the chicken cooker with no previous experience? Well, here was the opportunity to test my own claims and it passed with smoking colors. Marlin was busy as a beheaded chicken that first morning and I was sorta pushed into running the BBQ42 with very little experience. Turns out it was very easy to crank out large quantities of perfectly done grillecue.
Meadow Creek smokes!
If you enjoyed the pictures, please leave a comment. I'd love to hear from you.
Have fun,
Lavern
Tags: BBQ42 Chicken Cooker, cooking for crowds, open house, sq36 bbq smoker