How to Grill Chicken for Crowds
April 19th, 2012
Last week Meadow Creek had their annual dealer meeting and Open House. Marlin and I always make sure we're there for the dealer meeting and at least part of the open house.
It was absolutely great being there again. I came home with some new inspiration, as well as confirmations of things I need to be doing to sell more Meadow Creek equipment. Don't get me wrong, I don't promote schemes that trick people into buying our smokers and grills. I'll leave that for the schematic tricksters who are content with forcing people to make decisions.
My goal is to educate the people in my market and help them achieve their goals. One of those goals is to grill chicken for events, such as fund-raisers, auctions, open houses, weddings, etc. Not just grill chicken, but chicken that is perfect from head to toe. Fully cooked on the bone, but not dried out on the surface. Cooked uniformly from east to west, north to south. Not just perfect chicken, but huge amounts of it.
Does this sound like your dream? Meadow Creek chicken cookers make it easy as pie to grill perfect chicken for hundreds. It was fun to see it done again last week.
I don't know how many people Meadow Creek fed at their open house, but I guess it was at least several hundred. They served pulled pork and grilled chicken lunches in styrofoam take-out boxes. I took a chicken dinner. It had a homemade roll, a piece of grilled chicken, a grilled potato, and apple sauce. For dessert, they were serving homemade ice cream made in a freezer powered by one of those hit-n-miss engines. (It is just the best ice cream on both sides of the Mississippi river, especially the raspberry.)
The folks at Meadow Creek know how to cook for crowds. But not only that, they have developed the equipment you need to get the job done easily.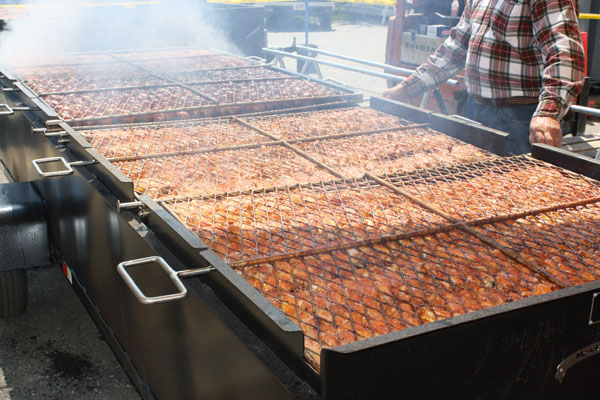 Here is one of the chicken cooker trailers they were using to grill chicken and potatoes. It's a BBQ144 Chicken Cooker Trailer. Meadow Creek's flipping grill grates make it easy to flip an entire rack of chicken.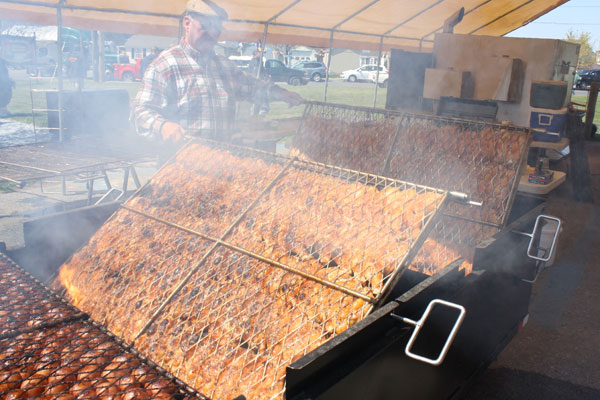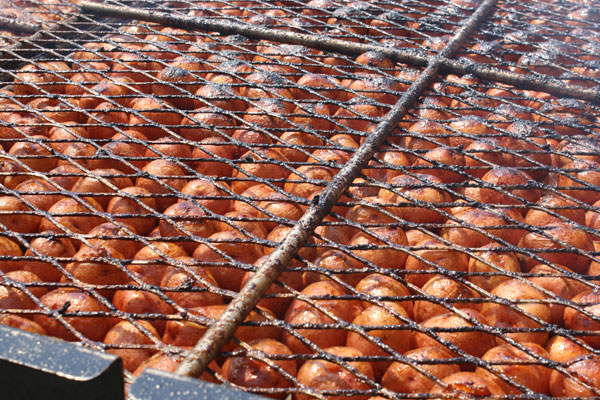 See how the grates swivel in the middle? The sandwich hinges along one side and locks on the opposite side.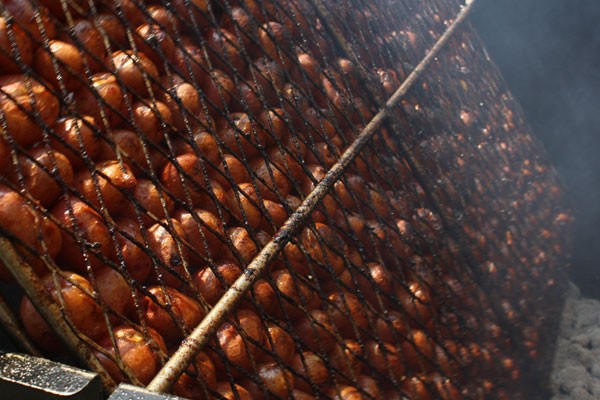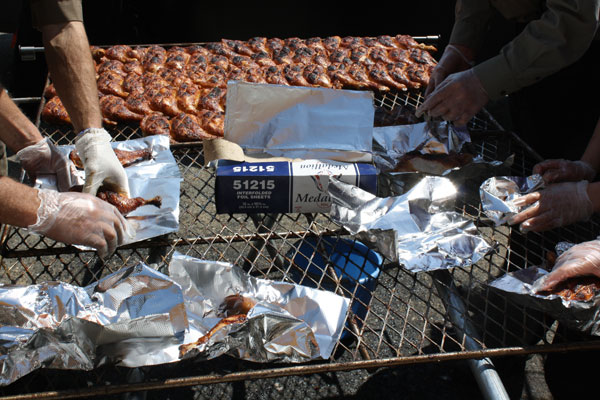 When the chicken is done cooking, you just grab the ends of the grate and set it on a table or "saw horses" like you see in the picture above. Here, they had a team of people wrapping the potatoes and grilled chicken in aluminum foil and throwing them into an ice chest to keep hot until served.
Do you cook for crowds, but find it completely exhausting to keep up with the flipping and the whole process? Think about Meadow Creek's revolutionary grills. Browse our collection of chicken grills from small backyard models to large custom trailers the size you want.
Listen to Calvin Steele's story:
Marlin,

I just wanted to let you know that the BBQ42 that I purchased from you this past Friday is awesome!

The first time I used it was the very next day, cooking chicken wings at Pops on The River and they turned out great. It helped make our vending debut in Chattanooga a big success. Within minutes of the wings placed on the cooker and the smell working its way through the crowd, I booked an event in September and a private party in 2 weeks!

I was able to cook 75-80 lbs of wings per hour with ease and without getting Carpel Tunnel in my wrist from turning each wing. The consistency with each batch was seamless and they were cooked to perfection.

Calvin Steele
Fresh Squeezed Vending Concepts
I hope this blog post inspired you to realize how easy it could be to cook barbecued chicken for hundreds. Stay tuned for more tips.
Get flipping,
Lavern
PS. If you're interested in learning more about Meadow Creek equipment, you can request a free copy of my buyer's guide here. You'll get the full-color PDF and a series of emails to help you learn which Meadow Creek cooker and add-ons are best for you.