Update on BBQ Tips, Recipes, and Training
January 27th, 2012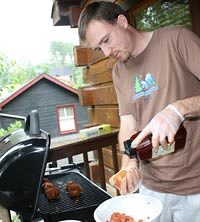 I look at the date of my last post and realize with horror that it's been three months since I poked my head out and wrote. I realize I have just spent 90 days training you to think my blog is dead and not worth coming back to. [Shudders!] Well, I am about to turn this blog around and retrain your thoughts so that you will love to return often and read the latest and greatest. That is how it should be, right?
Today, I want to kick it off by sharing my goals for the future here at Yoder's Smoky Mountain Barbecue. There is no denying, I want to keep selling lots of Meadow Creek smokers and grills. Nothing new about that. Beyond that, I have a passion to teach barbecue—the real thing, the kind that flavors up your life, and gets people talking (and eating)! There is much to be taught and smelled and experienced. This year, Lord willing, we will be pushing out regular recipes, tips, and training, including HD videos showing how we cook around here.
My plans include more free barbecue recipes and tips PLUS a paid course or ebook for people who want to learn how to cook outrageous barbecue. We are also developing a Meadow Creek membership site with recipes and tips for using Meadow Creek equipment, forums for talking with others who use Meadow Creek, and other exciting stuff. This community will be exclusively for people who buy Meadow Creek equipment from us, and those people will get free lifetime access to the site!
If you are interested in my recipes and tips, make sure you get on my list using the form below. If you are considering a Meadow Creek smoker, grill, or pig roaster, tick the box below for my Meadow Creek buyer's guide, which is packed with tips, charts, and recommendations to help you choose the MC model that is perfect for you.
Have fun!
Lavern Gingerich
Tags: bbq recipes, bbq tips