Meadow Creek vs. Lang Smokers
May 2nd, 2011
Now a title like that should get the fire stoked!
First of all, I am not here to disrespect any brand out there. (In fact, you might be shocked to hear me recommend the Lang.) My goal is simply to help you choose the BBQ smoker that's right for you if that time should come.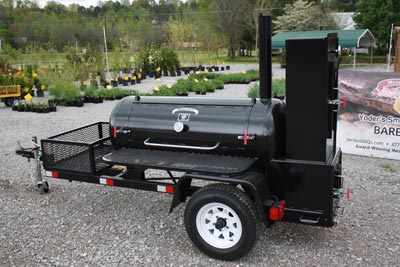 Some people see the similarities between a Meadow Creek and a Lang and have a hard time making up their mind. I am happy to share our perspective on the differences between Meadow Creek and Lang smokers.
Meadow Creek Versus Lang
First of all, I need to say, there is a segment in the market that will go for a Lang and not a Meadow Creek because of price. We strongly feel Meadow Creek is priced fairly, but it is a superior product, and therefore, a higher priced rig.
Here are some of the differences between a Meadow Creek tank smoker and a Lang:
Ash Pan: Meadow Creek Offset Smokers have a sliding ash pan in the firebox. The pan makes it easy to remove the ashes while you are cooking or after the burn. Lang doesn't use an ash pan.
Rounded Ends: A Lang smoker has flat ends on the cooking chamber. We believe reverse flow draft isn't made for flat ends. A Meadow Creek tank smoker is made from a tank with rounded ends for better air circulation.
Latches: Meadow Creek smokers have adjustable, positive-lock latches on all the doors. Your doors will never pop open while bouncing down the road (and that's without using a bungee strap ;-). Lang uses a "homemade" lever-type latch on their smoker doors.
Grates: All Meadow Creek cooking grates are food-grade stainless steel and have a 25-year warranty against rusting. Lang's grates are regular steel that will likely be a little rusty the first time you open the door. Grates that don't rust make clean-up a lot easier and eliminate all rust contamination on your food. Also, on a Meadow Creek tank smoker, the cooking grates slide out. The Lang grates do not slide out. Sure is a nice thing when you need to pull it out for loading or working with the meat.
VIN Number: If you buy a Meadow Creek trailer from us, we can give you the VIN number for you to register it. If you want to register a Lang, you have to register it as a homemade trailer, which is more of a hassle.
Options: It's fuzzy to me exactly what options Lang offers. But with a Meadow Creek smoker, you can add insulation to the firebox, stainless steel work shelves, and a bunch of other stuff.All the TS models come with a warming box that you can use to cook beans and keep meat warm or upgrade with live smoke for more smoking room.
Quality: One big deal for us is the major difference in quality. I have seen a brand new Lang with a crooked cut in plain sight and rusting grates. You can tell Meadow Creek gives a lot of attention to detail when it comes to cuts and welds. The folks at Meadow Creek grind sharp corners and welds smooth and go the extra mile to achieve top-notch quality. Click here (then scroll down a little on the page) to watch "Gazing at Beauty", a close-up look at Meadow Creek's revolutionary smokers.
Now, let me clarify here. It's very possible that Lang would give you sliding stainless steel grates and some of the other stuff I mentioned for additional cost; but, I am just trying to give you my honest comparison.
It really comes down to what is important to you and what you can afford.
Do you want a smoker with grates that get rusty?
Do you want a lower quality smoker?
Do you want to spend less even though some of the angles might be a little crooked and some of the welds a little crude?
If you don't mind that, then by all means go for a Lang.
Did you hear me say that—"Go buy a Lang"? And I assure you, I will probably lose some money by saying that. But hey, I just don't see any point in you calling us on the phone when Meadow Creek isn't even a good fit for you.
Or…
Do you want the "Cadillac" in the smoker industry?
Do you want grates that won't rust?
Do you want an elite cooking experience, attention to detail, and knock-your-socks-off craftsmanship?
If that is you, then by all means, go for a Meadow Creek BBQ Smoker.
The choice is yours.
Closing Thoughts
It may be debatable whether the round ends in the smoking chamber make a difference, but Melvin from Meadow Creek told me the story of a couple guys that were cooking side by side. One had a Meadow Creek TS60 Smoker and the other had a Lang. The guy with the Lang was getting annoyed because he needed to keep adjusting the cooker while the TS60 was a breeze to maintain.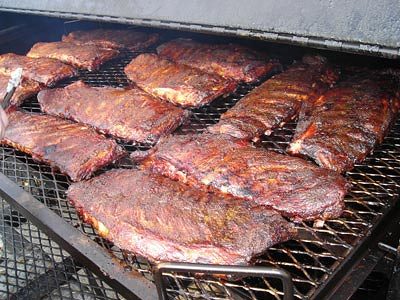 I don't know if we can base anything on a single story. We have never cooked with a Lang. But we have cooked with Meadow Creek smokers and can say they are a breeze to use. Of course, the reverse flow rigs still take some occasional adjustments, but they are like tug boats gliding down the river. I can say that from personal experience and observation. Besides they are handsome and the welds are amazing.
Also, when you are checking out prices, make sure you compare apples to apples. Stainless steel grates, warming boxes, and awesome craftsmanship do affect the price.
When it comes to Lang, I have read good testimonials and people love their Langs. I am sure they do a good job of cooking. But when I see the quality of their cuts and welds and look at the features lists, it makes me think that Meadow Creek could deserve more recognition for introducing such an amazing revolution to the BBQ industry.
Do you have any more questions?
Just leave a comment on this blog post or call Marlin toll-free at 877-248-7753. Or click here to browse our website for lots of good stuff.
We are here to help you have fun, cook great food, and discover revolutionary barbecue equipment.
Until next time,
Lavern Gingerich
Tags: lang smokers, meadow creek smokers