Amazing Grilled Hamburger Recipe
November 27th, 2010
I've eaten lots of grilled hamburgers in my life. I've eaten some that were delicious and some that were okay. But then I've also had some grilled burgers that were simply amazing.
Here are a few of my secrets to making amazing grilled hamburgers.
Mix your own burgers from ground beef.
Season both sides heavily with a tasty barbecue rub (seasoning).
Don't overcook them.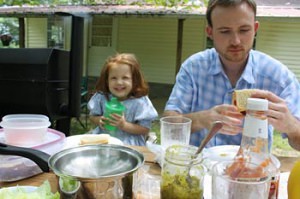 If that was all you knew about grilling hamburgers, you could take the above three secrets and make amazing grilled hamburgers. But I'm going to elaborate on these a bit and share a recipe for mixing up some amazing burgers for the grill.
Grilled Hamburger Recipe
1 pound hamburger
1 egg
2 slices onion, chopped
8 small Saltine crackers, crushed
1/2 teaspoon salt
1/3 teaspoon pepper
2 tablespoons milk
1 teaspoon Worcestershire sauce
Mix the above ingredients together and form into burgers. If you don't have a burger press, you can use a 1/3 cup or 1/4 cup measuring cup to measure the burger and then form the burgers with your hands.
Season both sides of the burgers heavily with a decent barbecue rub. If you don't have anything, you can simply mix equal parts of salt, fresh ground peppercorn, onion powder, garlic powder, and paprika. Check out my recent blog post on barbecue rub recipes for more help.
The final secret has to do with not overcooking the meat, and I can't stress this enough. I personally don't like to bite into a burger with lots of raw beef in the center, but I try to aim for a slightly pink center.
If you're grilling thick burgers, turn down the heat and give the centers time to cook. Otherwise, the outside will get overdone and the center will still be raw. This is not a big issue with thin store-bought burgers though.
As they're cooking, I like to brush barbecue sauce or ketchup on both sides to add a little more flavor and juice. And just as they're finishing up, throw a slice of cheese on the top of each burger.
Serve them with some good homemade bread or rolls, sweet and tender lettuce, slices of sweet onion, mustard, ketchup, and pickles.
You will end up with more than an amazing grilled burger. You'll be stunned with an amazing, loaded hamburger sandwich. This is easy deliciousness.
Have fun!
Lavern
PS. The Meadow Creek BBQ26S Chicken Cooker and BBQ42 Chicken Cooker are both great for backyard grilling. Raise the charcoal pan for grilling burgers and drop it for flippin' chickin'!